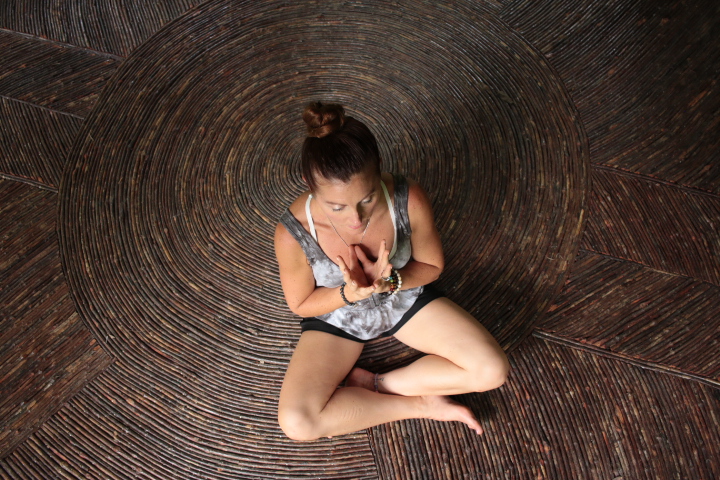 I've been at it again. Taking some time away from this space to explore places that are new to me, and to build my mindfulness and yoga teaching practices at the same time.
This time, I kind of outdid myself, though.
I capped off several weeks of travel with 15 days living in a treehouse in the Dominican Republic, leading morning meditations for a group of yoga teachers-in-training, and co-facilitating the program with Dancing Dogs Yoga, a Baptiste studio in Atlanta.
Don't get me wrong, it wasn't your average backyard hideout. As far as treehouses go, it was pretty fabulous. It was still alllllll outside, though, and kept me in constant cohabitation with frogs, geckos (no British accents, sadly) and the occasional snail, or three. My daily commute consisted of a series of lily pad stones and a rope bridge. I crossed paths with a towering tree older than almost anything I've ever seen, and sat humbled in the midst of deluging rains that swept in and out with little to no warning.
I was reminded that nature is powerful in her balance, and her extremes. I recognized quickly that we are made entirely of her. All that power, all that peace. All that combination of the two.
I got super uncomfortable, and not just because of the creatures and humidity. Well, I mean, they were definitely a part of it. But, they were more like a catalyst for other things.
You have two choices when you get pulled out of your comfort zone. You can run back into it, or you can choose to stay, and do the work that it holds for you.
Me in the rainforest? Plenty of work to do. So, I decided to stay with myself, and do it.
I meditated, did yoga, engaged in self-inquiry (answering those questions about yourself that you want to avoid), and had the privilege of coaching others in doing the same. I called myself out on denial, and self-doubt, and those pesky moments of ego invasion. I had meaningful conversations, and sat in intentional silence. I let go of plans and expectations, and sat with the present moment, whether I liked what it held or not. I unwrote stories and lifted judgments and tried my best to let go of the need to know. I gave myself space, and permission. I worked hard, and I rested harder.
So, did I come home from this epic experience totally refreshed and ready to take on every challenge before me? NOPE. As you may know, that's not how hard things work. I'm tired, I have a little bit of an emotional hangover, and my body's still trying to remember how to function in climate-controlled environments. I'll tell you what, though.
I'm empowered. I'm stronger. I reconnected with my purpose, and was reminded how much I love operating within it. I spent some quality time with myself, and decided that I still think she's awesome. Also, I'm really, REALLY proud of her for being willing to show up for herself, and do the work to keep becoming the best version the universe can create of her.
I'd do it again 100 times. In fact, I probably will. Mindfulness, and the transformation work it enables, isn't a one-time project. It's a lifelong journey.
The question is, are you up for the adventure?
Photo credit: Victoria Privette